If you want to explore all the wonders of Southeast Asia, you will have to visit Vietnam. From winding streets in the cities to villages high on the mountain tops, the Vietnamese culture is definitely worthwhile getting to know. Of the many beautiful places Vietnam has to offer, the following three should be at the top of your "Must-see" list …
Hanoi
Where can you get to know Vietnam and its people better than in its chaotic capital? That's why the city of Hanoi should be one of the travel destinations of each and every traveler. With countless shops, restaurants, cafes, museums and street food markets, Hanoi is a perfect mini destination for a multi-day stay. The true charm of Hanoi lies in the small, narrow streets of the Old Quarter. Here you can observe the hectic goings-on of people, scooters and animals, who try to find their way through the crowd without any traffic rules in place. As a novice tourist, it can even be a real challenge to cross the road …
Furthermore, Hanoi is the perfect starting point to reach other sites in Vietnam. By bus you can easily reach the mountain regions high up north or go to Halong Bay in the east.
Halong Bay
If you want to travel to Vietnam, you definitely have to plan in a stop in Halong Bay. This area has not been named an UNESCO World Heritage Site in 1994 for no reason. The huge rocks which protrude from the turquoise waters offer a breathtaking scenery that you definitely should not miss. Many boat tours also include visiting the stalactite caves and a visit to the Floating Village.
Even though Halong Bay is a tourist hotspot, your trip will be unforgettable. The beauty of the huge, dense limestone islands leaves you speechless and almost lets you forget all the other tourists.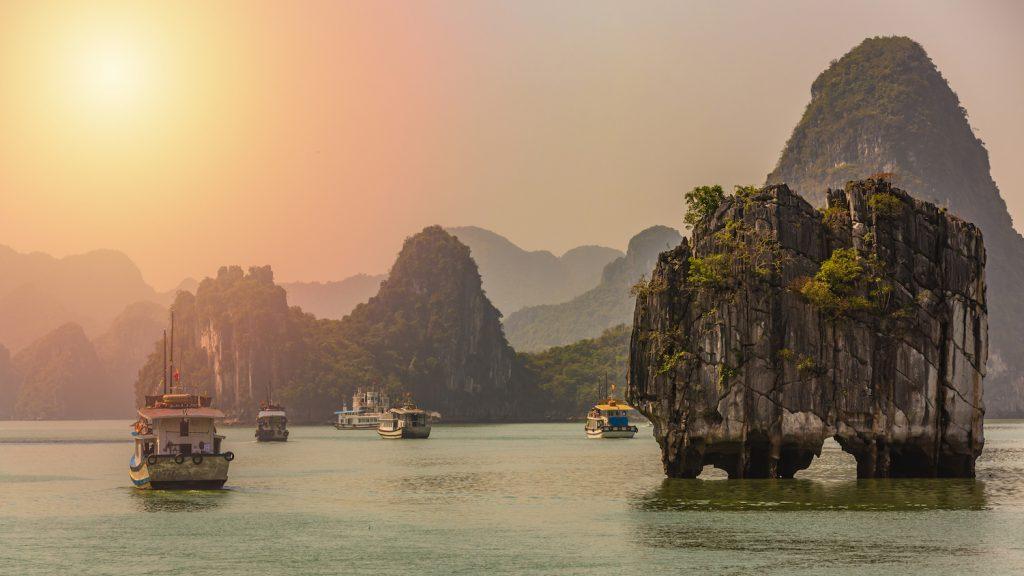 Hoi An
Another beautiful travel destination in Vietnam is the city of Hoi An. During the day, the colorful city is already an exotic sight of Japanese, Chinese and Vietnamese architecture. The many restaurants, cafes and small shops invite to linger, however, a trip by scooter through the area is a small adventure in itself. In the evening, the city finally unfolds its true beauty, when a multitude of colored lanterns brightly illuminate the streets.
An absolute must in Hoi An is a visit to one of the many world-renowned tailors. Here you have a wide selection of different colors and fabrics to choose from and even your dream suit or dress is tailor made.
Who knows – after a few days you might leave the city with your own unique item of clothing …