October 31 is getting closer and what would be a better travel destination than Transylvania? After all, it's the homeland of vampires and Dracula himself. You may have heard many legends and stories about this place but might not yet have considered it as a holiday destination. Do you even know where Transylvania is located?
Transylvania is a region in the centre of Romania. Known for its medieval towns, mountainous borderlands, and historic castles, it is definitely one of the underrated travel destinations in Europe.
Delightful cities
Romania has a long history, much influenced by power struggles and migration. Depending on the city, you can notice the strong influences from Germany, France, Hungary or even Turkey.
Not only Bucharest – the capital of Romania – is truly exquisite, but so is the 'capital' of Transylvania – Cluj-Napoca – it's definitely well worth a visit. The city is home to many students from home and abroad, thus the nightlife of Cluj-Napoca has plenty to offer. You will find many pubs with music, nightclubs, restaurants with gigantic kitchens and great places for promenades on every corner. But also classic sights, such as historical buildings or museums, are sufficiently present for tourists keen on culture.
Sibiu is one of the most representative cities in Romania from a cultural, economic and touristic point of view. Winding streets, plenty of restaurants and colourful houses bestow a truly unique character on Sibiu and make it a truly remarkable city.
Brașov is one of the most visited cities of Romania. Apart from the beautiful old town tourists also admire the "Romanian Hollywood sign". You can see it high above the city surrounded by woodland. Maybe this is one of the reasons why Brasov is such a popular tourist destination. Furthermore, there is also the Zwirngässchen (Strada Sforii). With a width of only 1.3 meters and a length of 83 meters, it is the narrowest street in the city and one of the narrowest in Europe. Certainly not a good idea for people suffering from claustrophobia!
Sights in Transylvania
When travelling to Transylvania, there should always be some sort of excitement. Otherwise it wouldn't be a real Halloween holiday, would it?
Whether you are a history buff, a fan of vampires or a simply a tourist, a visit to Bran Castle is definitely a thrill. Towards evening, a spooky atmosphere develops around the imposing castle, which explains why it was long claimed that Dracula resided here.
If you are addicted to scary stuff but haven't been impressed by the castle, then the next stop is just right for you. The Hoia-Baciu Forest is one of the most famous places in the world. Here, in the past paranormal phenomena have been recorded and numerous mysterious events have taken place in the forest: A shepherd with 20 sheep has disappeared, red-hot eyes and ghostly voices are buzzing through the air and a UFO has landed here before. So, do you dare to enter the forest?
Should you plan your trip from around mid-December, you have the chance to visit another attraction. At the beginning of winter, a legendary structure arises in the harsh mountains of the Romanian Carpathians: the Ice Hotel (opens this year from 23.12.2019). The hotel is built entirely out of snow and ice blocks from the largest glacial lake in the Fagaras Mountains. These blocks of ice have a height of 70 centimetres and weigh almost 70 pounds. So, if you want to sleep on a bed of ice or eat at a restaurant made of ice, you're in the right place.
Hiking in the Carpathians
The Carpathians form a 1,500 km long mountain range in Central and Eastern Europe. They extend from the Czech Republic to Romania in the shape of an arc.
For lovers of nature trips through the Carpathians are a real highlight. You will see unique lake landscapes, stunning mountain ridges, water-rich gorges and endless forests. In almost every mountain group there is a nature reserve.
However, you should keep in mind that the forests of Romania harbour large wild carnivores such as brown bears, lynxes and wolves. Due to strict hunting restrictions the former Romanian dictator Ceaucescus proclaimed at that time, the bear population now amounts to more than 6,000 animals.
Wolves however are shy animals which rarely come into contact with humans. Yet, an encounter with a bear can have dire consequences and should always be avoided.
Should you still want to go hiking, more and more environmental tour operators offer guided mountain tours. Many environmentalists even want to offer bear observations as tourist events.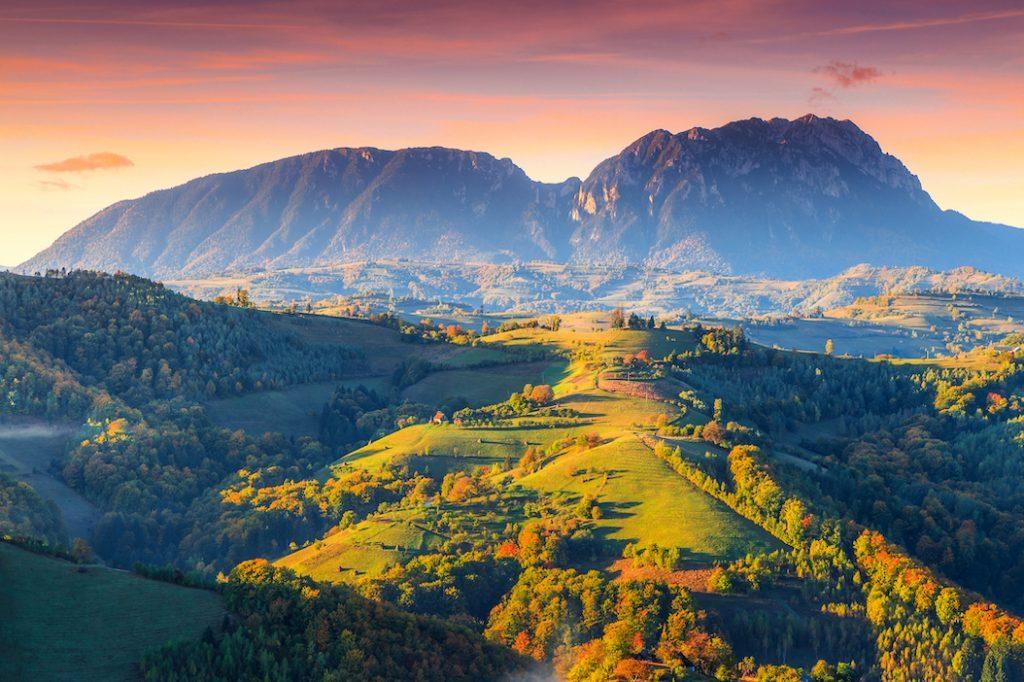 Traveling through Transylvania
Although the Foreign Office talks about a dense rail network, public buses, domestic flights and taxis, this mainly refers to larger cities. If you want to explore the country on your own, you should definitely consider renting a car.
Consequently, you can drive comfortably from one city to the next and plan pit stops in traditional villages. The drive through the breathtaking landscape gives you an insight into the past. On the road you'll meet overloaded hay wagons pulled by horses, and right thereafter you'll see expensive A-class cars. Romania is one of the European countries where social contrasts are huge and cannot be ignored.
Our tip:
With so much to offer in the natural and idyllic countryside far from tourist towns and places, we would most definitely advise to hire a car. The sparsely populated mountainous landscape or the rugged massifs of the Carpathians offer a mainly unchartered terrain.
Among the true highlights of the country is the Transfagaras high road, a mountain road between the Great Wallachia and Transylvania. The pass road is considered the second highest road in Romania. At an altitude of up to 2042 m, you can view much of the surrounding countryside. But first you have to earn the right to this panorama: you have to overcome numerous tunnels, challenging climbs and hairpin bends.
Culinary delights
Agriculture in Romania is still partly medieval, many fields, for example, are still cultivated with horses. But precisely this fundamental cultivation renders the food so organic and delicious. That's why food can be found on every street corner. Even the schnapps is still home-made.
Romanian cuisine is traditionally very meaty, but even for vegetarians the friendly Romanians always find an alternative. If you stay in Bucharest or other big cities, for example, you can also eat a lot of international and varied foods in addition to hearty Romanian cuisine.
Nonetheless, the traditional cuisine should definitely be tried. Here are some of Romania's most famous dishes:
Ciorbă – a warming soup
Sarmale – traditional cabbage roulade
Mici – spicy mincemeat rolls
Dobrogeana – cheesecake for dessert
For now, the country is still a real insider tip and thus really reasonably priced. The landscape is incredibly diverse, the charming old towns still exude a real medieval flair while the unique legends and stories make a visit to Romania an absolute highlight. Be enchanted by scary places, charming restaurants and the remarkable natural landscape. Off you go to Romania!